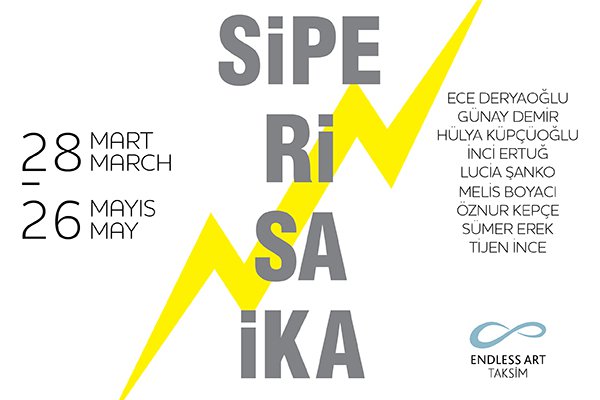 THE EXHIBITION "SIPERISAIKA" TO BE OPENED AT ENDLESS ART TAKSIM ON MARCH 28, 2018.
THE GROUP EXHIBITION "SIPERISAIKA"
MARCH 28 – MAY 26, 2018
Endless Art Taksim continues to contribute to Istanbul's cultural life thorugh the range from theatres to concerts as well as from workshops to exhibitions of the different disciplines, together with the panels and seminars.
Endless Art Taksim encourages the audience to re-consider the art through different approaches, as it always does, while bringing together the projects available in different fields of art under the same roof.
During each creation process, the artists reinterpret the life into the world through filtering it through their own internal dynamics repetitively, and they transfer their works, which they produce through bringing together their own life experiences and energies, to any material like a sperisaika*.
The gravitational field, created by each new work produced, interacts with the energies, created by all other productions of the world, and it, as a product of occurrence and creation, catches the harmony of the disharmony between the works. The works available at the exhibition gets together under the initiative of the artists through their free and independent attitude presented by their own internal energy to them, and they transfer their interpersonal energies to the audience in their own environment.
At the exhibition, which covers all exhibition spaces, mainly the Endless Art Hall; Ece Deryaoğlu, Günay Demir, Hülya Küpcüoğlu, İnci Ertuğ, Lucia Şanko, Maide Bulak, Melis Boyaci, Öznur Kepçe, Sümer Erek and Tijen İnce encourage the audience to experience a common energy field, through their works they produced by means of different techniques.
* Lightning rod
You may visit the exhibition "Siperisaika" at Endless Art Taksim as of March 28, 2018.
Opening cocktail for the exhibition:
March 28, 2018
Wednesday
At 07:00 PM
28-Mar-2018 - 26-May-2018